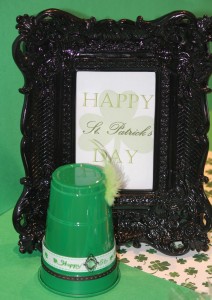 I quickly made these up as place cards for our St Patrick's Day brunch – each year I change them around as the final design really depends on what is available in the craft and dollar stores.
Material:
Green Plastic Cups
Green Feathers [these usually come in a large bag]
Theme ribbon [2 different styles]
Large gemstone
Glue Dots
Hold the cup upside down and measure and then cut the two ribbons around the circumference at the open end of the cup soon to be leprechaun hat. On the underside of both ribbon pieces place small glue dots approximately 2" apart and affix the thinner ribbon approximately ¾" and the wider ribbon 1 ¼" up from the open edge of the cup lip. Glue the large gemstone in the center of the wider ribbon and place a glue dot on the top side of the closed end of the cup/hat and affix a feather. There you have a leprechaun hat which can be used as a place card or simply decoration for your St. Patrick's Day celebration.