Adorable, quick and so very easy!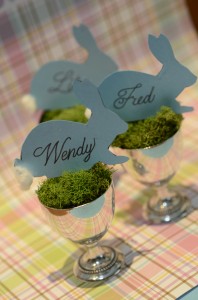 By using the eggcups that you have in your cupboard, some moss from a craft store or nursery, cardboard, and toothpicks, you'll create a memorable place card for your special Easter occasion.
Firstly, locate a clipart photo of a bunny or other traditional Easter design and reduced it to the appropriate size for the eggcup. For our purposes here, we will use the bunny for the design directions. Next, print off the bunny and cut the image out very carefully. After that, trace it onto the backside of a sheet of cardstock and then carefully cut out the bunny with sharp, fine blade scissors. Take your Sharpie and print, script, or write the name of your guest onto the body of the bunny. Then, centre and hot glue the toothpick onto the reverse side of the bunny -the side on which your tracing marks were made. Next, cut a small bit off the cotton ball and add a drop of glue-not too hot but just hot enough to form the bunny's tail, adding another small drop on the cardboard tail to place the cotton tail. Next, take a small amount of moss and place in the eggcup. Stick the bunny on the toothpick in the centre of the eggcup and you now have adorable place cards for your special Easter Dinner.
Material: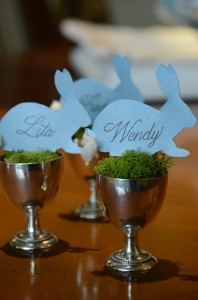 Cardboard
Toothpicks
Cotton ball
Moss
Supplies:
Eggcups
Hot glue gun and glue
Scissors
Sharpie [black]