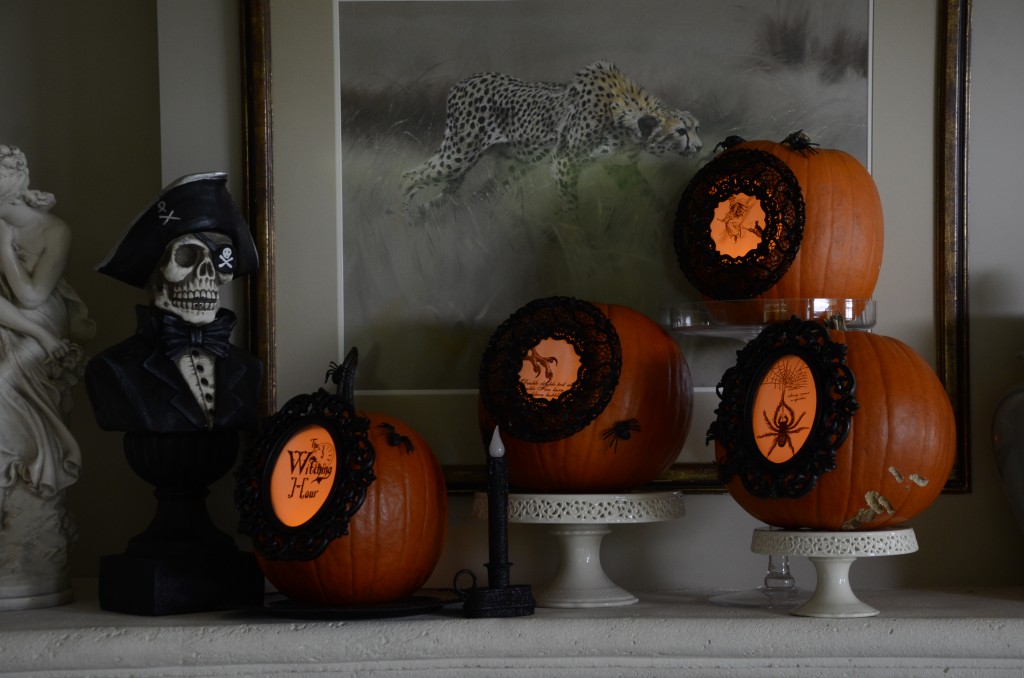 Doesn't everyone love Halloween? Young and old? At Halloween our family really enjoys the decorating, carving of pumpkins and of course costumes and "trick or treats".
About ten years ago my husband and I and our two children held our first Pumpkin Carving Party, it has steadily grown each year so that this year we will be hosting seventeen eager carvers.  Invitations were sent out one month before the party, planning the event for the weekend before Halloween. On the invitations we let our guests know that we provide the pumpkins, carving tools, snacks, drinks, dinner and  dessert.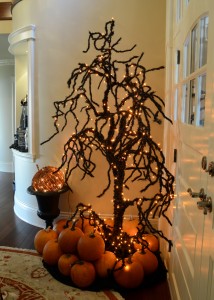 We have a large center island in our kitchen that is perfect to gather around – I cover the counter top with black plastic tablecloth's.  I get this in rolls so that I can trim to fit.  In the center of the island I place several containers of carving tools, knives, candles, matches, pens, crayons, pumpkin carving templates, etc.  Each guest gets their own "pumpkin carving apron". I make up place cards for each guest and space them around the kitchen island so they have their designated work area. A pumpkin patch is set up at our entry doors with 20 or so pumpkins so that each guest gets to choose one as they arrive – they take their pumpkin and place it on the island in front of their place card and don their aprons.  Once the young children are set up and settled, we get underway.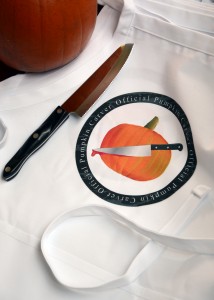 While our guests are busily carving we offer them a choice of special beverages, this year it will be Pumpkin Beer, Pumpkin Pie Milkshake [with or without alcohol] or a cup of hot chocolate with mini marshmallows. The appetizers are put out on a side table so that as the guests finish their masterpieces they can snack. Our meals for the Pumpkin Carving Event have always been a basic one dish meal, usually crowd pleaser and generally have comprised of chili, beef stew, lasagna or even spaghetti and meatballs with all the fixings of course.
When everyone is finished carving their pumpkins, we illuminate each, then each carver is given a voting ballot with a list of each participant – each person gets to vote for the pumpkin that they think is the most original, creative, goofy, spooky and of course the best – importantly they cannot vote for themselves.  As everyone sits down for dinner the ballots are tallying.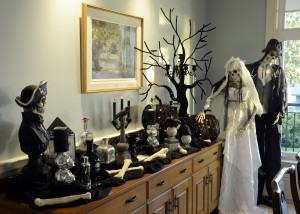 In our formal dining room I usually go all out with Halloween decorations so that as each guest enters the dining room they feel as if they're entering a haunted house it simply adds to the fun and festivities of the evening.
Halloween for us goes hand-in-hand with treats, lots of them, so each place setting is given a special handmade "treat" and guest favor. While serving dessert we announce the winners of the pumpkin categories and hand out Halloween theme prizes.