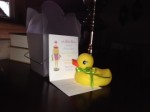 It's Time …
We held a garden party baby shower complete with sit-down luncheon. The fun was ushered in on a spectacular Sunday at noon, for thirty-five guests, on a glorious, sunny, and warm June day. The theme was "rubber duckies" and the accent colours were yellow and green.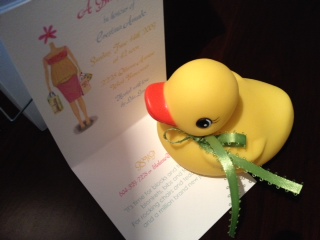 A special package was sent to each guest by way of a frosted take-away food container.  It contained a bright yellow rubber duckie and invitation to attend this unique garden party baby shower.
It's time for blocks and tiny socks
blankets, bibs and toys
for rocking chairs and teddy bears
and a million brand new joys!