I always enjoy creating a new and improved version of a functional item, adding both charm and meaning to something that I use almost every day. The simple glass cookie jars that perch on the countertop in most kitchen, filled with cookies, candy and cereal, offer a wonderful opportunity to jazz up something ordinary and make it as delicious to look at as the treats it contains. These treat jars, in all of their simplicity and charm, have been around for decades. With a very little work and some creativity, you can make it "dazzle".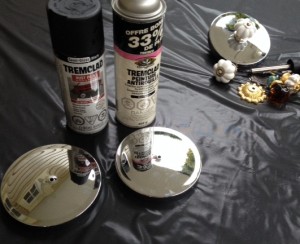 Materials:
Spray paint
Glass cookie jar with metal lid
Drawer pulls with back-plates or escutcheons
Make sure you use a paint made specifically for painting metal:- I used Tremclad.
Place a drop cloth down in your driveway. Remove the existing silver knob and screw from the silver lid and place the lid on the drop cloth. The first coat of paint is your base coat and I generally use white for this.
I do one layer of base coat, allowing it to dry overnight. I follow it on with two thinly sprayed layers of the finishing colour, as this gives the best coverage. Allow each coat to dry overnight. A reminder that when you use spray paint don't hold the can too close to the item when you spray as this will cause dripping. Once the paint is thoroughly dry you can attach your new, improved and dazzling drawer pulls and you have created a "one of a kind" custom cookie jar.