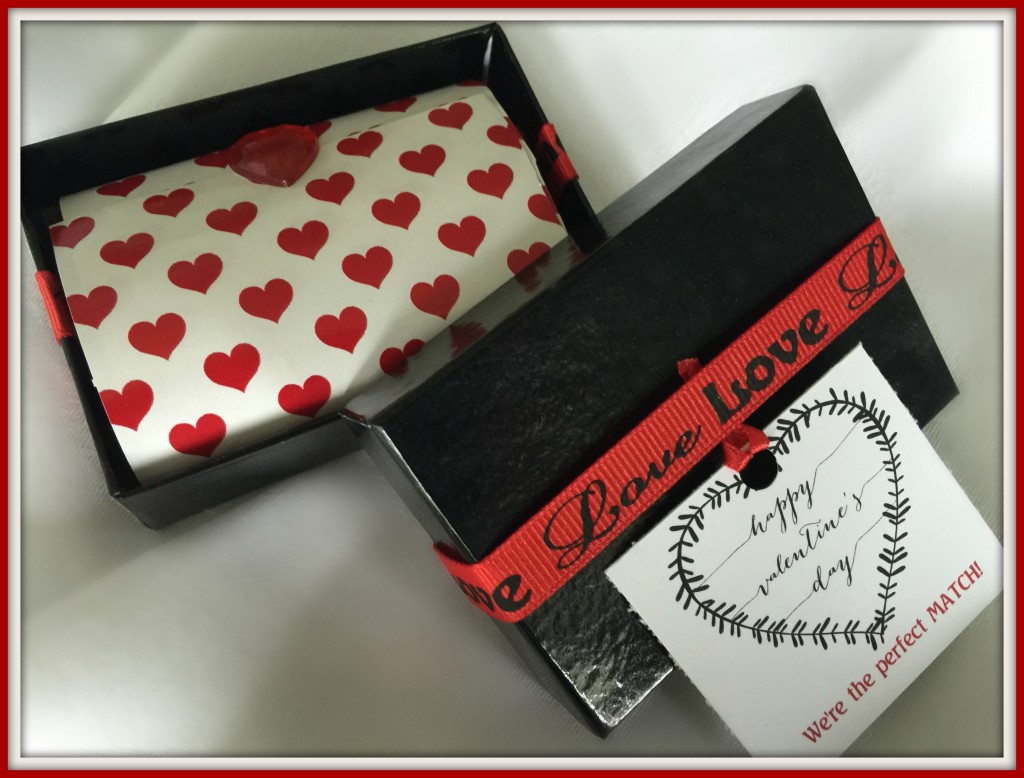 Valentine's Day is the world's "Celebration of Love"! Each year on February 14th, people exchange chocolate, flowers, gifts and cards to express the love and affection they have for those who make their lives special.  Although some people argue that it's a commercialized celebration, I personally feel that any opportunity I have to show my love and gratitude to those I treasure or hold in high regard is a wonderful idea.
Today and tomorrow I will be posting two "make at home" gifts that will be certain to delight a friend, sibling, child, spouse or grandparent. In my case, my daughter will be handing these out to her special school friends..
---
Valentine we are the perfect "match"
Materials:
Small jewellery box 2″ x 3″
Wrapping paper cut to 2 3/4″ x 4″ size
Valentine ribbon 1/2″ wide, cut for lid: 5″ in length and for the base: 6″ in length
Small glue dots
Printed personalized gift tag "We're the perfect match"
2″ pretzel sticks
Wilton's red candy melts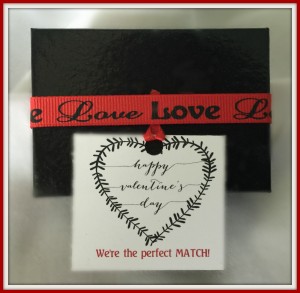 Directions:
1. Prepare the pretzel matches by following the directions on the back of the bag of candy melts.
2. Dip the one end of the pretzel stick in the red melted candy melts [approximately 1/4″] and completely cool.
In the meanwhile while the "matches" are cooling … prepare your box.
3. Place a small glue dot on the underside of each end of the 5″ cut ribbon and centre on the longer length of the lid of the box, wrapping the ribbon ends to the underside of the lid and fasten.
4. Do the same to the 6″ ribbon on the base ensuring that the placement on the lid aligns with the placement of the base.
5. Put your 4″ piece of wrapping paper in the box, then arrange the cooled pretzel matches.
6. Close the lid and affix your personalized gift tag with ribbon or glue dots.