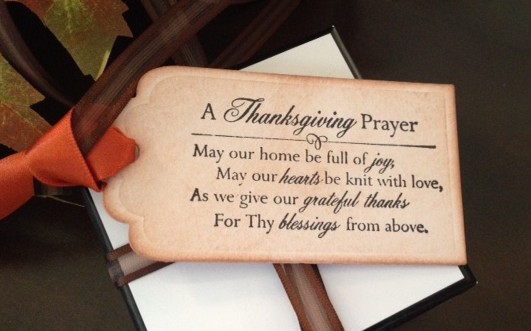 A unique centerpiece is one way to create a memorable table setting and make wonderful Thanksgiving memories for your family. A magnificent centerpiece sets the theme and underscores the importance of the occasion, creating a warm setting and welcoming atmosphere. The long-awaited Thanksgiving meal will be one to remember!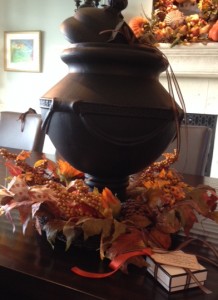 For many years, our Thanksgiving centerpiece consisted of a large urn resting on colorful autumn leaves, flowers, and fruits. This Thanksgiving tradition always evoked warm memories, anticipation, and excitement as our guests arrived at the table. We dubbed this centerpiece "Thanksgiving Pie." At each place setting, our guest would have a short Thanksgiving prayer and we would ask everyone to take a moment of silence to read the prayer at his or her place setting before we began the feast. Once the prayers were read, the eldest child or guest was asked to share something for which they were thankful. Once they had finished, they pulled the ribbon attached to their Thanksgiving Prayer, which was attached to a small gift inside the Thanksgiving Pie. Once everyone had participated, they were all free to open and enjoy their individual gifts. This offered our growing family another moment of connection and reflection for all of the blessings of the year.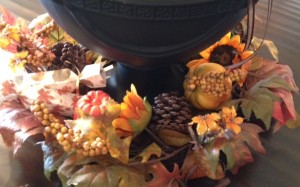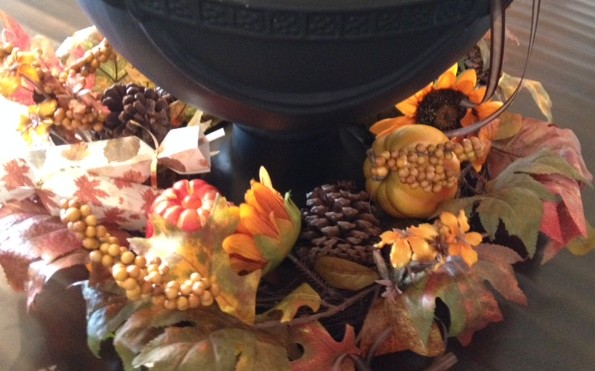 Whatever centerpiece you choose to grace your Thanksgiving table, design it to make your gathering and feast a heartfelt and memorable celebration.