From the end of WW1 until 1920 Thanksgiving and Armistice Day were both celebrated together on the Monday closest to November 11th, which is the anniversary of the end of World War I. In 1931, Armistice Day was renamed "Remembrance Day" and celebrated on November 11th each year, whereby Thanksgiving Day was moved to a Monday in October. From 1957 to present day, Thanksgiving Day is celebrated on the second Monday in October.
Thanksgiving Day in Canada has its roots in the European tradition of harvest festivals. The most common symbol of this holiday has long been the cornucopia, or horn, filled with seasonal fruit and vegetables. The name "cornucopia" was derived from the Latin, meaning "Horn of Plenty", and was a symbol of bounty and plenty in ancient Greece. Turkeys, pumpkins, ears of corn and large displays of food are also used to symbolize the abundance of Thanksgiving Day.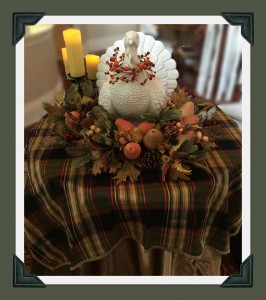 Thanksgiving provides an opportunity for family and friends to give thanks for a good harvest and the other fortunes of the past year.
Over the next few days, I will share with you some creative, quick and fun "do-it-yourself" crafts to personalize your Thanksgiving table.