Thanksgiving is a time to celebrate family and dear friends. What better way to show your gratitude than an imaginative guest favour at each place?
This year as a table favour, each adult will receive a small bottle of wine [375 ml] embellished with our personalized ribbon and a custom-designed label.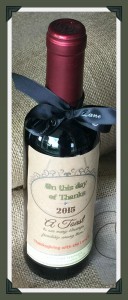 A Toast to our many blessings, friendship among them!