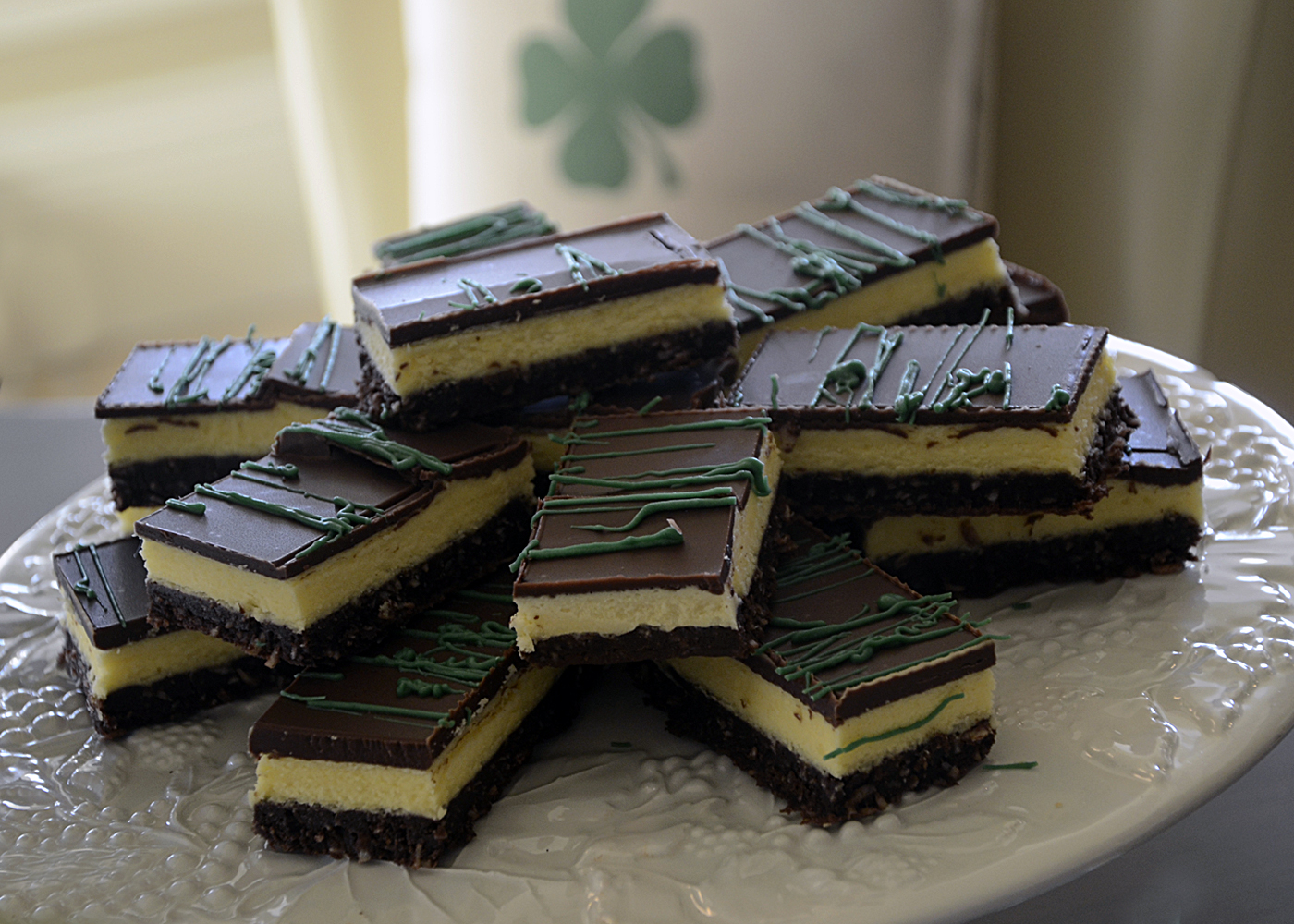 When planning a St Patrick's Day brunch, party or dinner I'll often take a standard  dessert and make it more festive by using green icing, sprinkles and candies to add to the holiday or event celebrated. I've been using the following recipe from Canadian Living to make Nanaimo Bars, a favourite treat of my children for decades, and it's never failed me. I  make up a batch, and drizzle melted dark green candy melts on top.

Ingredients: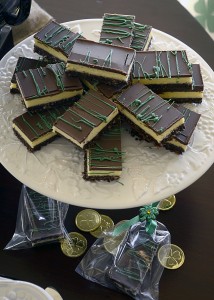 1 cup (250 ml) graham cracker crumbs
1/2 cup (125 ml) sweetened flaked coconut or shredded coconut
1/3 cup (75 ml) finely chopped walnut halves
1/4 cup (60 ml) cocoa powder
1/4 cup (60 ml) granulated sugar
1/3 cup (75 ml) butter, melted
1 egg, lightly beaten

Filling:
1/4 cup (60 ml) butter
2 tbsp (30 ml) custard powder
1/2 tsp (2 ml) vanilla
2 cups (500 ml) icing sugar
2 tbsp (30 ml) milk (approx.)
Topping:
4 oz (113 g) semisweet chocolate, chopped
1 tbsp (15 ml) butter
Preparation: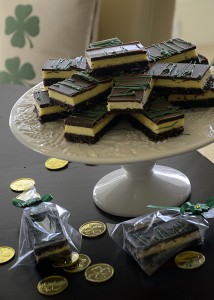 Base: In bowl, stir together graham crumbs, coconut, walnuts, cocoa powder and sugar. Drizzle with butter and egg; stir until combined. Press crumb mixture into parchment paper–lined 9-inch (2.5 l) square metal cake pan. Bake in 350°F (180°C) oven until firm, about 10 minutes. Let cool in pan on rack.
Filling: In bowl, beat together butter, custard powder and vanilla. Beat in icing sugar alternately with milk until smooth, adding up to 1 tsp (5 ml) more milk if too thick to spread. Spread over cooled base; refrigerate until firm, about 1 hour.
Topping: In heat-proof bowl over saucepan of hot (not boiling) water, melt chocolate with butter. Spread over filling; refrigerate until almost set, about 30 minutes. With tip of knife, score into bars; refrigerate until chocolate is set, about 1 hour. (Make-ahead: Wrap and refrigerate for up to 4 days or over-wrap in heavy-duty foil and freeze for up to 2 weeks.) Cut into bars.  Melt the dark green candy melts in a microwave-safe bowl for one minute, stir, then microwave for another 30 seconds until melted.  Drizzle over bars.