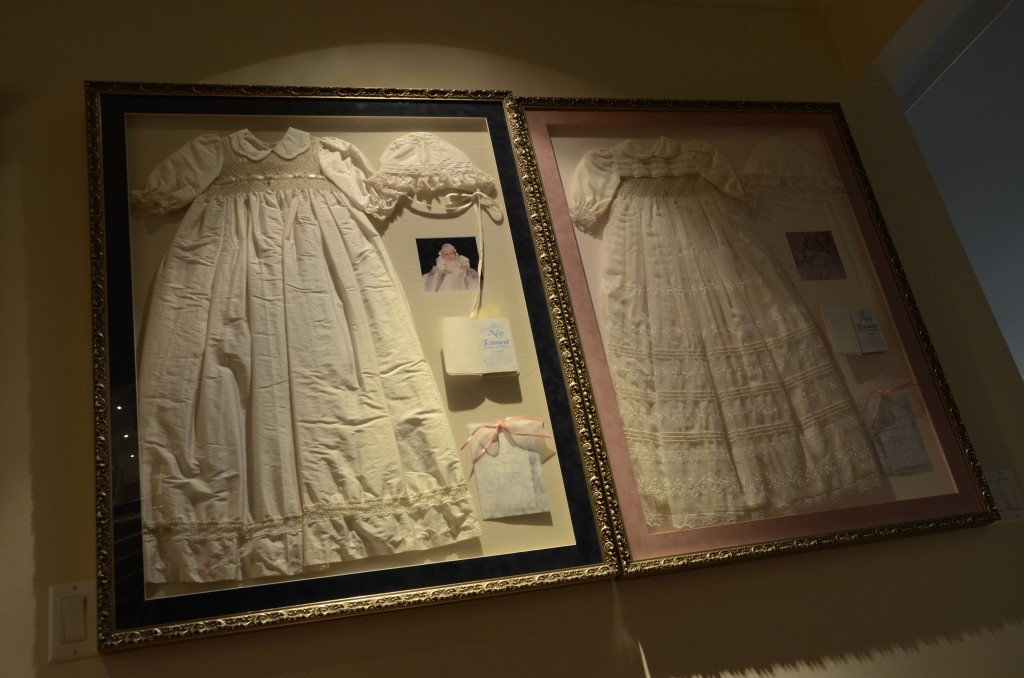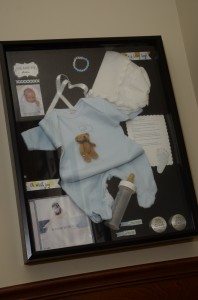 A shadow box is an enclosed framed box, with a glass front that is usually square or rectangular in shape. Its depth will vary depending on the objects you want displayed. It will contain items that you wish to exhibit and protect. These objects are generally treasured or important pieces and are placed in the shadow box in a creative grouping. I have a number of these in our home as it is a way to store and still enjoy our treasures. Most of the shadow boxes are of events in our lives or our children's and many are of their milestones.
Whether you create your own shadow box or have a custom framer do it, these are the steps required to achieve success:
1st Be clear on your theme and then gather the mementos, such as books, invitations, photographs, maps, pieces of clothing, music sheets;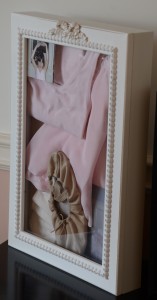 2nd Layer and arrange the pieces using pins.
My first example is our twins christening dresses complete with their photograph, the invitation, the small bible that was a gift from their grandparents and the silver cross, a gift from their godmother – they were four months old.
Our twins were two months premature; I wanted to display the smallness of them the first two weeks. The second example is of these items; birth picture, hospital bracelet, preemie sleeper, preemie bottle, and a short poem [shown at end of article] and then later I included their first curl and first tooth.
The beauty of a shadow box is that it is always present in our living space – to enjoy and reminisce.
Your Mothers Heart
I loved you from the very start,
you stole my breath, embraced my heart.
Our life together has just begun
you're part of me my little one.
As mother with child, each day I grew
my mind was filled with thoughts of you.
I'd daydream of the things we'd share
like late night bottles and teddy bears.
Like first steps and skinned knees
like bedtime stories and ABC's.
I thought of things you'd want to know
like how birds fly and flowers grow.
I thought of lessons I'd need to share
like standing tall and playing fair.
When I first saw your precious face
I prayed your life be touched with grace.
I thanked the angels from above
and promised you unending love.
Each night I lay you down to sleep
I gently kiss your head and cheek.
I count your little fingers and toes
I memorize your eyes and nose.
I linger at your bedroom door
awed each day I love you more.
Through misty eyes, I dim the light
I whisper "I love you" every night.
I loved you from the very start
You stole my breath, embraced my heart.
As mother and child our journeys begin,
My heart's yours forever my little one.