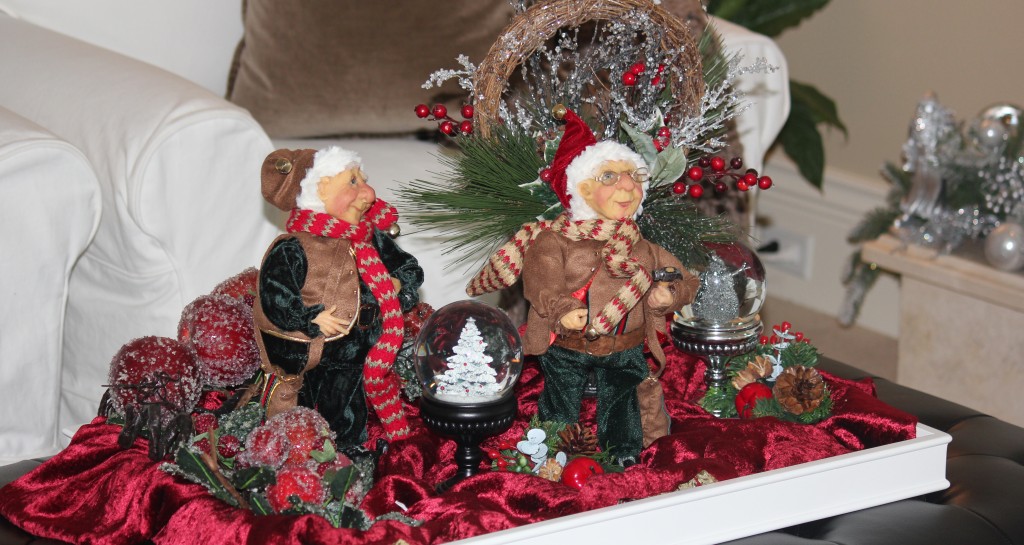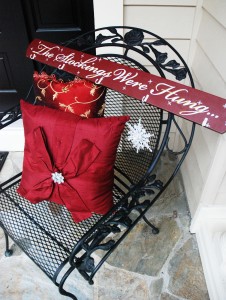 When decorating my home for the holidays, I endeavour to replicate the precious moments and memories from childhood. I hope to recapture the magic of an enchanting time in my past and to pass on this pleasure to my children.
Toward the end of November we cart out boxes of ornaments and decorations, some that have been passed down from parents or grandparents, some that our children have made, and most that we've purchased because they bring to mind a sentiment that we want to relive once again for a short period.
Take a look at some of our family's Christmas treasures.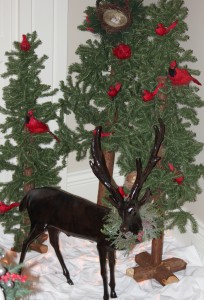 Foyer
In our entrance we created a number of small vignettes that capture the winter and holiday spirit: Santa on his sleigh with three of his reindeer, three small children bringing home a freshly cut Christmas tree, old fashioned carolers on a sleigh ride surrounded by glistening snow.
In the corner of the entrance is a winter scene, almost life size, of evergreen trees and two iron reindeer with wreathes around their necks.
Formal Dining Room
The sparkle and glitter of silver, and the softness of white complements the robin's egg blue dining room walls. The mantel and buffet are festooned with white garlands, silver balls, glittery white snowballs and wintery animals, such as reindeer, polar bear, snowy owls and penguin. The dining table has two white wreaths with duplication of the same ornaments used throughout the room.
Family Breakfast Nook
Several years ago I fell in love with these glass ornaments and although they are not the traditional red, green and white theme, each year I can't leave them buried away and must find a special place for them. This year it's on a tree in our breakfast nook.
Family Room
In the family room we placed a smaller tree upon a pedestal, again with vignettes such as period skaters, elves hard at work and reindeer under a snowy tree, each put on a tray for ease of moving and containment.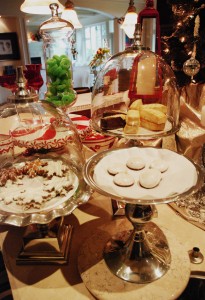 Kitchen
In our kitchen we have lots of fun with Christmas decorating. We set up a tea and hot chocolate station, a special area for all our baking, and apothecary jars full of delicious sweets. We use our kitchen island that has plenty of room to do a large arrangement. This year we put two decorated trees on a silver snowy mountain, surrounded by traditional treats.