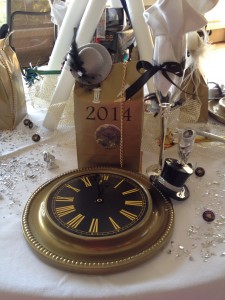 How lucky to be spending the holidays on the beautiful island of Maui?
Celebrating New Years Eve this year will be spent having a late dinner with my husband and our two children and ringing in 2014 under the Hawaiian midnight moon.
For a special meal no matter the number of guests I always try to decorate a festive table. This evening was no different as I included party hats, horns, lights, special treats, guest favours and of course champagne!
Guest Favours: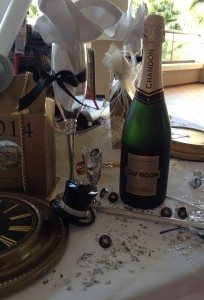 I simply printed "2014" in a large font onto gold gift bags and filled them with goodies appropriate to each of the diners.
Table Setting:
I started with a crisp white tablecloth as I finds this adds sophistication to the dinner, then I sprinkled glitter confetti, miniature black, silver and white top hats were placed at random. Additionally, I chose to use clocks to mark each place setting, champagne glasses with black "bow ties", personalized Hershey's "midnight kisses" for an after dinner treat, noise makers and light sticks waiting for the stroke of midnight.