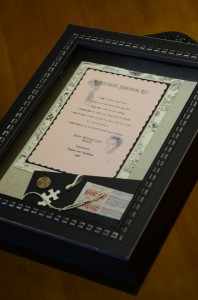 Each year, Mother's Day is celebrated in Canada on the second Sunday in May.  Until I had children of my own, Mother's Day had only a minor significance. However, it was a day for me to remember and give thanks to my mother for having and raising me. 
Thirteen years ago, I gave birth to my twins, and for the past 13 years, and most especially the first one, Mother's Day took on a whole new meaning.  This became a day to celebrate and remember our own mothers and mother figures – be they daughters, stepmothers, mother-in-laws, guardians, foster mothers, special relatives, or dear friends.  This was also a time to recognize motherhood as the 24 hour, 7 day a week job with some days harder than others, sometimes unappreciated, yet always committed to nurturing and showing our babies the way.
Moreover, I feel Mother's Day is also a day to celebrate me.  It is a day to revisit the original vow I made in the delivery room 13 years ago to my newborn twins, and to ask myself the hard questions.  Am I the mother I had hoped I would be?  Do I, on a minute-by-minute, day-to-day basis, continue to give love, joy, guidance, happiness, support, and caring to each of them?  I have found that each stage in my child's development has brought many joys and much fulfillment along with the accompanying frustrations.  However, like all moms, my love for my children far surpasses any momentary discomfort or fatigue.  A mother's love truly is immeasurable!
Happy Mother's Day to all moms out there!
This is a quick, fun, and sentimental craft to do for that special "mother figure." To this day, nine years later; it has a very special spot in our home!
A Mothers Day Survival Kit
A hug for being a great Mom;
A penny so you will always have good luck;
A Band-Aid to heal any hurt feelings;
A puzzle piece for without you things would be incomplete;
A piece of rope to remind you that if you get to the end of yours, tie a knot and hang on;
A rubber band so you can stretch yourself beyond all limits.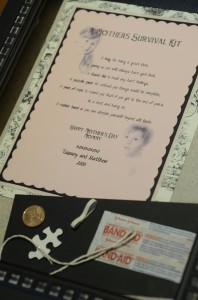 Material:
Shadow Box
Penny
Band-Aid
Puzzle Piece
Piece of String or Rope
Elastic Band
Glue Dots, Hot Glue or Pins
Paper to print and mount