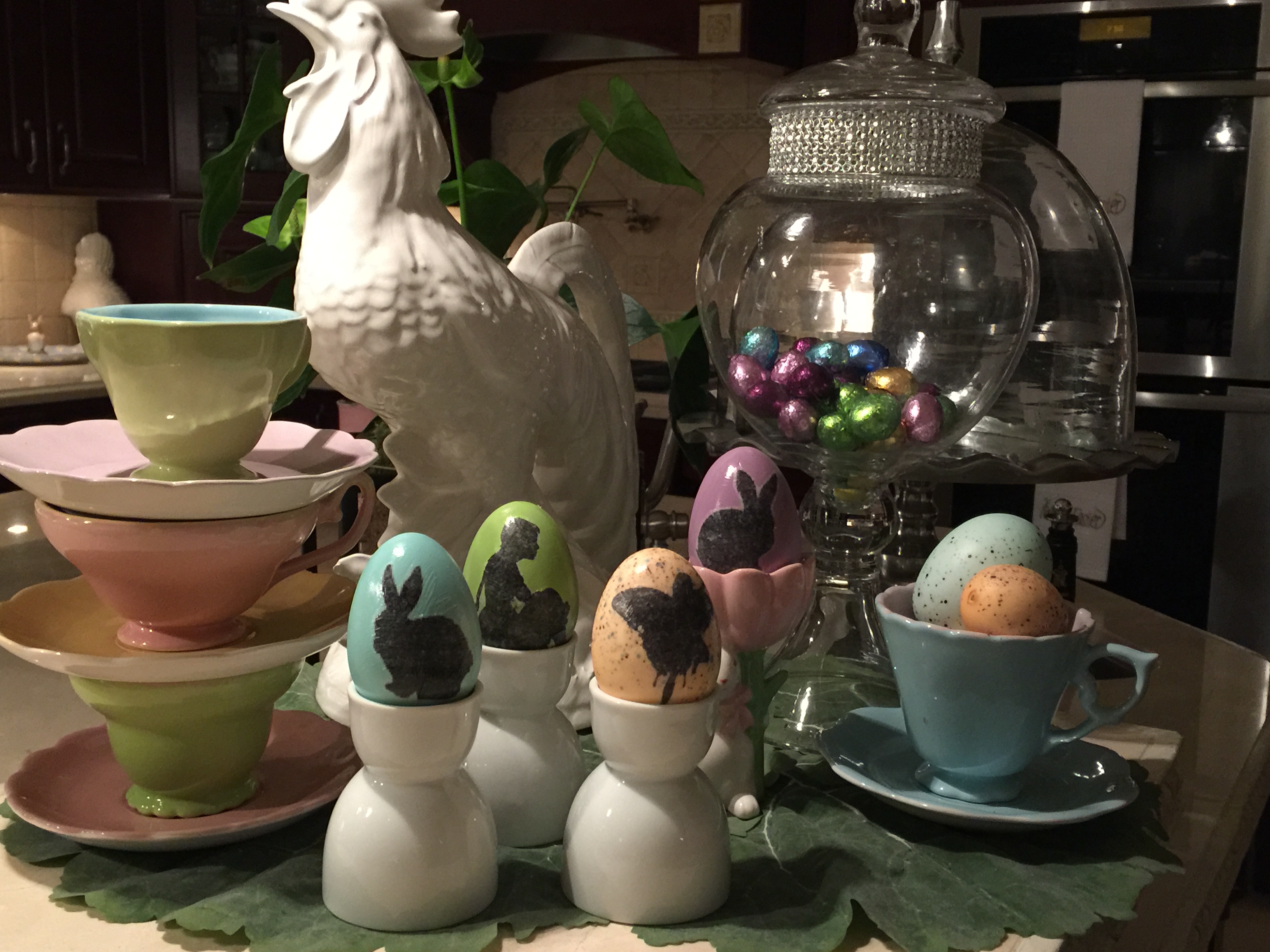 I'm a big fan of decoupage. I took some courses in the process many years ago, and have enjoyed pulling out my expertise from time to time to add dazzle to holiday pieces. When I saw a decoupage egg in a shop this spring, it gave me the inspiration for my table centerpiece this year.
Decoupage—from the French word découpe, meaning to cut out—is an art form that entails pasting paper cut-outs on to an object and then covering them with several coats of varnish or lacquer. This process gives flat images an appearance of depth and makes patterns and pictures look as though they are actually painted on the decoupaged object.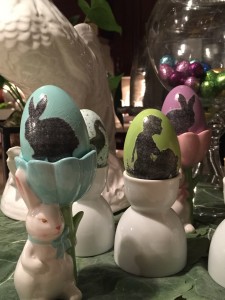 Creative Steps:
1. Find the silhouette images you would like to see on your Easter eggs. I've chosen a duck, bunny, fairy…. you can really use any image that is widely symbolic of spring or Easter. Copy and paste your silhouette image to a word document and resize to approximately 2″ high.
2. Glue the top edge of a piece of copy paper.
3. Lay a piece of white tissue paper on top of the glue line and press down so it is secure.
4. Trim the tissue paper so that it is the same size as the copy paper.
5. Feed into your printer so the silhouette document will print on the tissue side, glue end first.
6. Print silhouette document [use the draft setting as you don't need a lot of ink].
7. Cut out your silhouettes, leaving a small white border.
8. Brush Mod Podge onto the section of the egg where the silhouette will be placed.
9. Apply tissue silhouette, ink side down [ink against the egg].
10. Brush Mod Podge on the tissue silhouette, using the brush to flatten the tissue and work out any air bubbles or wrinkles.
11. When the Mod Podge is dry [24 hours], use the edge of an old credit card or gift card to smooth out any of the remaining wrinkles.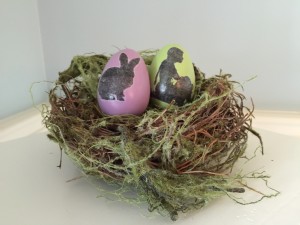 Material:
Eggs [plastic or wooden];
White tissue paper;
Silhouette images [clipart];
Copy paper;
Glue stick;
Scissors;
Mod Podge;
Paint brush.