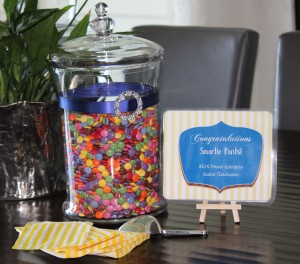 Junior Graduation is a significant event in a young student's life as it symbolizes the end of junior and middle school years and the end of childhood.  A Junior Graduation marks the recognition of the passage from child to young adult and the taking on of more responsibilities.  Each school has its own idea on how to honor this important occasion.
The next few articles I will be posting will highlight some creative ideas that can be modified and altered to fit your needs.
In this instance, the school colours are blue and yellow so I embellished a large apothecary jar with a blue satin ribbon and a jewel clasp and filled it with Smarties. I created a sign for the display that reads "Congratulations Smartie Pants, [the graduating year] 2014, the school name and lastly Junior Graduate".
I placed sandwich bags and a scoop so the students could help themselves.