With a whimsical centerpiece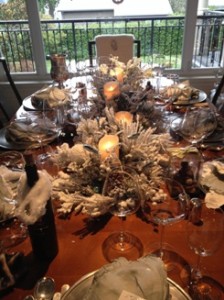 A gorgeous Christmas table setting shows your guests that they are welcome and important to you; it also provides a building block to festive conversation.
Here is an example of a table design for the holidays. For the centrepiece I placed a flocked garland down the centre of the table and then placed Christmas berry picks, small aqua bulbs, and medium glitter snow balls.
To add whimsy to the arrangement, I included golf balls and silver wrapped chocolate sardines. Why sardines? Our tradition began during an annual golf trip. Many years ago four gentlemen discovered a shared passion for sardines on toast, and voilà the "Sardine Open" was born. This golf tournament is held each November, followed by a celebratory Christmas gathering during the holidays.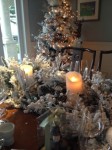 We celebrate their friendship by the tradition of paying homage to the culinary delight that is the mighty sardine!