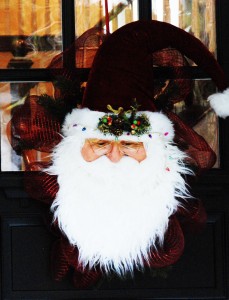 I like to place something on my front door that celebrates the season and the holidays. I like it to be fabulous, to capture your eye, to draw attention to the front door, and to welcome friends and family to my home.
Typical wreathes come in many forms, but traditionally they are round and are embellished with cedar, feathers, twigs, etc. Instead, here is an atypical entrance door "wreath". I wish I could take credit for creating these masterpieces, but they were created by Marlene, the owner of Trims in Edgemont Village.
I asked her to put together something non-traditional and fabulous and gave her a free hand to design and decorate. Take at look at these works of art! The artist that created the Santa and elves is Jacqueline Kent, so keep your eyes open for her various seasonal pieces.